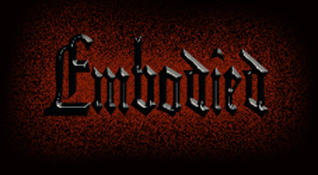 Links Images Discography Lyrics

News:

Debut album "Destined To Burn" is now available for $20 at gigs and
selected music stores.

Coming very soon is a DVD containing some live material and
behind the scenes footage.


GIGS:

Stay tuned for future gigs


Sorry to report people but Embodied are not playing in Early March due to personal commitments.
They will be around in the pubs soon enough though... Sooner than you can say "Destined To Burn!"

**GET THE ALBUM KIDDIES**



Email Embodied at: embodied666@hotmail.com

If you dont want to get any pop up ads, I suggest you use a pop up elimination program like NoAds
or get yourself a browser such as Firefox. Both free to download. Or you can just put up with the pop up ads
because we get this web space for free and it's one less thing we have to fork out dollars for.